Props & Paints
These are all projects from somewhere in the last twenty years of building props and painting things for stage, screen, and event.  I am in recovery from being unbelievably bad about taking pictures of things for many, many years, or I would sorely be exceeding my space here.  Most of these are relatively recent, but there are also some relics. If you've worked with me over the years, and you've got pictures of stuff I've built, please send them along!
I'm also happy to discuss any of these projects in more detail.  Email me at cappysee@gmail.com.
Lichens!  These were for a film that hasn't been released yet — not sure about the legality of referring to it specifically, so I'm keeping it vague — and are made of Ben Moore textured "knife grade" patching compound, tinted, sculpted, and painted.  They set up on plastic coated with mold release.  When applied, they looked best in combination with clay-based irregular finger flecks of mini-lichen.
This is a 28′ model of Optimus Prime, for the Hong Kong premiere of the film Transformers: Age of Extinction, built by Symmetry International in Lincoln, Rhode Island.  I was part of a team of sculptors who carved it out of white bead foam, which was later coated in hard urethane.  Then I also helped to paint it.
Portrait for the Sandra Feinstein-Gamm Theatre's production of Hedda Gabler.  Latex and acrylic on board.  The uniform is deliberately innocuous.
So here's a severed head.  This was modeled on a plaster life cast of an actress's face.  I built the plaster face into a sculpted head shape, cast it in Brush-On 35 in a mother mold of Plasti-Paste, and coated the inside of the mold with tinted Dragon Skin.  I then filled it with Flex-Foam-It! V so it would keep its shape.  Painting silicone is always a nasty business, and I wasn't fond of the shiny, choppy results I was getting from Psycho Paint.  I ended up going out on a limb and dusting corn starch on a thin layer of tacky Psycho over the whole surface, which worked like a charm.  It turned into a matte, corpselike surface that took regular acrylics perfectly without losing the creepy translucency that makes Dragon Skin such a fantastic product.
Then it was a matter of popping in some plastic eyeballs, sewing on a wig and head wrap, and gluing on some eyelashes from the CVS.
Three 24″x24″ samples on plywood.  Weathered wood, reflective metal ornament, and two-color taffeta drape.  Latex paint.
Giant, hollow plaster dragon eggs for WaterFire Providence.  These were made to be broken, and contained hundreds of tiny paper baby dragons.  They were cast based on a plasticine-coated positive of a half egg in Brush-On 35 with a plaster mother mold.  A mother positive was clamped into the mold when casting to create the hollow.
Fancy chalkboard for a film, shot at the actual bar in Worcester, Massachusetts depicted on the upper board.  That's their logo.  I designed and executed the rest, based on their own menu.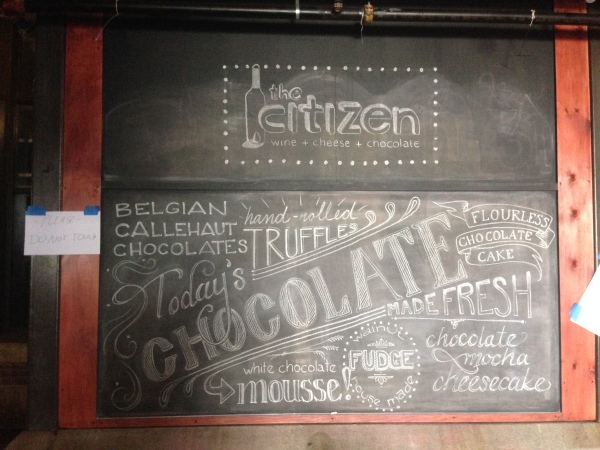 This is a stock aluminum desk at the Goodspeed (des: Anna Louizos) that needed to look like a fancy wooden desk for a while, and then go back to being an aluminum desk.  I carefully applied glaze-treated woodgrain contact paper in three different styles in a fancy deco inlay pattern, trimmed the edges with aluminum tape, and sealed the entire thing with slightly tinted Polycrylic.  Very convincing and very reversible.
This is one of fifteen commissioned gift baskets shaped like enormous popped kernels of popcorn, shown here before the application of surface treatments (down to the clear-glitter "salt") and real movie-film handles and bows.  They're built on inverted, bell-shaped lampshades with nylon webbing fully encircling them for handle support.  I bulked them out with commercial spray foam gap filler and sculpted them with Crayola Model Magic, followed by a few coats of Rosco FlexCoat and a just a whiff of Aspen Yellow Design Master for that movie-theater warmth.
This is a full-sized elephant I worked on (with one other person) at Mystic Scenic Studios for the Boston Ballet. She's about 6'6″ and carved from pink bead foam under a couple of coats of West System.  The ears are warped Sintra board blended with A/B foam and the tusk and tail were sculpted separately on reinforcing rods.  She was all tricked out with fancy fabrics and body paint for the show, but here, she's as *cough* nature intended.
This is a rolling souvenir cart (des: David Gordon) I painted for the Goodspeed Opera House.  It was meant to have a nostalgic, aged, woodstained look, and all but the top is stained in thinned, water-based paints.  To make it look like an object that was once a lot more colorful, I first made exactly that.  Then I washed over it with a warm, grey glaze and tickled in some Glossy Wood Tone.
Also at the Goodspeed, here is a giant (I believe it was five feet across) Walking Liberty dollar (des: howard Jones) that was tap-danced on for a three-month run of a show.  It's a wooden platform skinned with steel (for the sound) and painted with FEV for its excellent adherence to metal.  After topcoating with shellac, the image remained amazingly intact through some of the worst abuse that can be committed against a prop.
These are comic Roman spear tips made from sheets of kids' craft foam, drain inserts, furniture bumpers, soft foam balls, ping pong balls, tie line, and various hardware, all attached to a core of threaded steel rod that extended out of the bottom and screwed into the handles.  They were coated with Rosco Crystal Gel for texture and adhesion, then FlexCoat for durable paintability.  They were treated with various spray paints and Rub n' Buff for a textured bronze feel.  The second photo shows the components.
This was a sign painting project, for the same show as the souvenir cart above.  Similar technique, but more opaque.
One Response